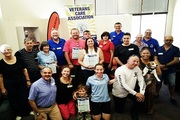 Veterans' Health Week (VHW) this year will be held from Saturday, 21 October to Sunday, 29 October. DVA will partner with ex-service organisations and community groups to organise and participate in fun activities that highlight the importance of improving and maintaining good health.

This year's theme of physical activity is vital to help veterans, current and former members of the Australian Defence Force and their families improve their physical, social and mental health, and sustain their fitness levels.

Physical activity is fundamental to a healthy lifestyle and can help us to stay connected and live a happier and longer life. It is one of the most important things you can do to improve your health and wellbeing.

Now is the time to consider how you or your organisation can be involved in bringing your local veteran community together. You may like to start an activity for you and your friends well before VHW and build it from there.

For assistance, or to find out more about VHW, contact DVA on 133 254 (1800 555 254 for regional callers), or visit the VHW page on the DVA website.

The funding application form, VHW Information Resource Kit, event guide and other documentation to assist event organisers will soon be available on the website.

We look forward to working with you or seeing you at a VHW activity in October!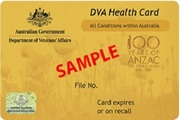 Using your DVA Health Card

While using your DVA Health Card is usually a straightforward process, there are a few things worth remembering.

Most healthcare providers in Australia accept DVA Health Cards, but not all. If you have not used a provider before, it's worth checking with them that they accept your DVA Health Card as full payment for the treatment in question. This will ensure you will not be left with an unexpected out-of-pocket fee.

If you are unable to find a provider in your area that accepts a Health Card, contact DVA and we will help find a provider close to you that will accept the DVA Health Card.

Very occasionally, your GP may determine a course of treatment for you that is not covered by your DVA Health Card. When that happens, they (or the relevant treatment provider) will seek prior approval from DVA.

Prior approval arrangements require no action from you. However, when booking an appointment with the treatment provider it may be worth asking if DVA has approved the treatment.

Very rarely, a specialist may not be aware of the prior approval process. If they refuse to accept your DVA Health Card for a procedure, believing that it is not covered by DVA, you could point out that the procedure may simply require require prior approval first.

It is important to remember that prior approval is only given for services that are clinically appropriate and necessary, and appropriate evidence must be provided by the treating practitioner.

For more information, visit the National Health Services Directory website to quickly and easily locate health providers. Note the Directory does not currently indicate which health providers accept DVA Health Cards.

If you have any difficulty using your DVA Health Card, please contact DVA for assistance by calling 133 254 (1800 555 254 for regional callers) or emailing GeneralEnquiries@dva.gov.au.

Further information on using your DVA Health Card is on the DVA website, including the factsheets HSV60 (Gold Card) and HSV61 (White Card).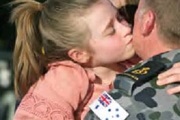 Skills that might save a life

The Veterans and Veterans Families Counselling Service offers suicide awareness and prevention workshops Australia-wide to help equip people with the tools and confidence to recognise suicidal tendencies and take preventive action early. The Operation Life program is available free of charge to anyone concerned about someone in the ex-service community.

If you are worried that someone you care about may be having suicidal thoughts, there are some things you can do:
• Express your concern, listen without judgement and reassure the person that you care. It is a myth that asking someone about suicide will put the idea into their head.
• If the person tells you they are contemplating suicide, help them to choose an appropriately qualified support person – this might be a GP or a counsellor. You could offer to book the appointment or go along with them.
• Talk to someone else about your concerns, such as a health professional or helpline. It is important that you look after yourself too.
• Encourage the person to be active; maybe invite them for a session at the gym or go for a walk or run.

The Operation Life program comprises three workshops:
• SafeTalk is a half-day presentation examining suicide alertness for everyone.
• ASIST (Applied Suicide Intervention Skills Training) is a two-day skills training course aimed at recognising, responding to and understanding suicide risk.
• ASIST Tune-up is a half-day refresher workshop.

To register your interest in attending, or to find out more information, including dates and locations, visit the Operation Life page of the VVCS website or call 1800 011 046.

These workshops complement other suicide awareness and prevention resources, specifically the Operation Life website and the Operation Life mobile phone app. To access these useful resources, visit the At Ease portal.